Blue Sky Gives the Gift of Space to Salvation Army Center
Southland Community Center will run Christmas distribution at donated warehouse.
Envoy Brenda McSwine had one big concern going into her first Christmas as the corps administrator for the Southland Corps Community Center in Grandview, floor space. When it comes to providing gifts and food to hundreds of families and children, finding enough space in her building was out of the question.
"We are rich in people and spirit here at Southland," Envoy McSwine said, "But not in square footage."
Storing the donated toys and food boxes requires available space for up to two full months in November and December. In the past, staff at Southland have utilized various warehouse spaces in the neighborhood, often paying for the utilities for two months. This year, Blue Sky Self Storage donated a 3,000 square foot warehouse space for Southland to use at absolutely no charge. The space will house Southland Corps' annual distribution of Christmas gifts and food boxes to more than 300 families in the southern Jackson County and Cass County area.
"This donation is a prime example of how companies can love beyond themselves and provide a much-needed resource to The Salvation Army that most people wouldn't consider," said Envoy McSwine. "We are incredibly grateful to all the people at Argus for this donation."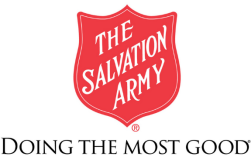 About The Salvation Army
The Salvation Army annually helps nearly 23 million Americans overcome poverty, addiction and economic hardships through a range of social services. By providing food for the hungry, emergency relief for disaster survivors, rehabilitation for those suffering from drug and alcohol abuse, and clothing and shelter for people in need, The Salvation Army is doing the most good at 7,600 centers of operation around the country. In the first-ever listing of "America's Favorite Charities" by The Chronicle of Philanthropy, The Salvation Army ranked as the country's largest privately funded, direct-service nonprofit. For more information about the Kansas and Western Missouri Division, visit SalArmyMoKan.org. Follow us on Twitter: @SalArmyMoKan and #DoingTheMostGood.